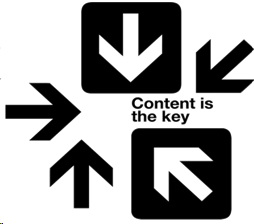 The most important ranking factor in SEO is content. Why? Because Google takes more signals from a websites content than from anything else it has to offer.
They judge a website mainly upon the words it uses and how it uses them. Google's searchers are looking for relevant and informative content and so that's what Google strives to deliver them.
If you have failed to fully optimise your content for SEO you'll find that you have a hard time getting on page 1 of the SERP's. For those of you who are unsure as to how to optimise their content the four steps I have listed below should help you to get on the right track. The following should be done in their current order:
1. Check the quality of your existing content
Before you consider doing anything else you need to take a thorough look at the words on your website. There is no point doing anything else to your current content if it lacks substance or value.
Imagine reading your pages as if you were a first time visitor. Would you trust what it says? Is it original and unique? Can very similar information be found at a variety of other sources? Google operates under some incredibly complex algorithms – it knows with respect to all other websites just how good your content is. If yours is mediocre it will need to be re-written as quickly as possible.
2. Begin your keyword research
The whole point of keyword research is to ensure that your website acts an 'answer' to the queries you wish to rank for. To find an array of search terms that are queried for your market you should use the Google Adwords Keyword Tool. This will turn any keywords you do know into several more. It is almost like the keyword thesaurus of the online world. You should be sure find an array of terms related to the topic of each webpage you have and not just the ones for your homepage.
Once you have collected a list of potential keywords you can narrow down the most effective ones by using Google Trends. This will show you how popular each term is allowing you to choose only the best ones for your website.
3. Integrate your research into your content
You now need to seamlessly insert your chosen keywords into your WebPages. The amount you use the keywords is up to you as there is no right or wrong amount. Having said this you should be careful about damaging the flow of your content. Do not crowbar in keywords as both Google and your visitors will pick up on this.
You should have one keyword strategy per page. Keep it simple. As soon as you try to overload a page with several sets of keywords you will confuse Google and deflate your chances of SEO success.
4. Consider the freshness of your content
Beginner SEO's often have the misconception that rewriting and adding new content on a daily basis is necessary for ultimate SEO success. This is not true. Instead of adding new content for the sake of it you should be taking another look at Google Trends.
Look and see if there are any keywords related to your market that are surprisingly popular at the moment. You should create new content revolved around these keywords.
You'll enjoy a nice boost up the SERP's for a week or two as you take advantage of Googles 'Query Deserved Freshness'. Don't be disheartened when your website sinks back down the SERP's again – it just means the new keywords you added aren't 'hot' anymore.
Respecting content as the true king of SEO
The way you adapt, evolve and care for your content will define the success of your SEO campaign. To ensure that your content remains the central force of your strategy I would advise running through the steps above on a monthly cycle. Search queries tend to go in and out of fashion and it is up to you to anticipate these changes and adapt accordingly. You would be surprised at just how much trends can change depending on the mood of society.
When adding new content you should always be wary of step 1. If the new content you add lacks substance and value you risk diminishing the SEO status of your entire website.