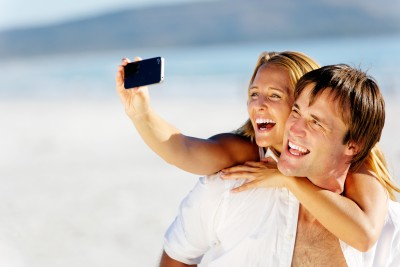 Social media has changed the way people travel — and for the better, in most cases. In fact, one survey in the U.K. indicated that almost 85 percent of social media users turn to their networks for help planning travel or share their experiences online. Whether it's a search for last minute flights to the Caribbean or a photo of an incredible sunset or a beautifully presented meal, most of us can't resist turning to Facebook, Twitter, Instagram or another site to share our thoughts.
But what many of us don't realize is that using social media correctly can actually enhance our trips beyond simply sharing what we're up to. From interacting with hotels on Twitter to using hashtags to find perks, getting social can often mean enjoying a better trip.
Share Your News
You're headed off to Mexico to celebrate your bff's birthday? Share the news on Twitter, and tag your hotel using the @ sign plus the hotel's handle. Many properties monitor their feeds constantly for mentions and will most likely see your post within a few minutes. Mentioning that you're planning a special celebration at their property might spur them to contact you for more information or put a note on your reservation, leading to special perks like room upgrades, free champagne, spa treatments and more. Of course, the perks aren't guaranteed, but you have a better chance when you interact on social media.
Interacting with your favorite hotels, restaurants and other spots on social media can also help you resolve problems or take care of last minute issues, such as requesting a late checkout or a particular floor. Some brands even have dedicated Twitter feeds specifically for responding to customer issues, and you might find that you get a faster response by sending your query via tweet than waiting on hold to talk to an agent.
Save Money
Everyone wants to save money, and social media can help you do that. Use hashtags to search Twitter or Facebook to find the scoop on special deals in your destination. You might find information on deals directly from your hotel or resort, but you might also find the local scoop on a great two-for-one appetizer deal at a hot restaurant or the inside track on a discount for activities you want to do.
Social Media Deals
Hundreds of companies are using social media to attract customers via "Facebook only" or "Twitter only" specials and promotions, and travel providers are among the leaders of the trend. Follow or like your favorite travel companies — including hotels, airlines, online travel agencies and restaurants — and check your feeds for promotions. You might find free nights, discounts or other perks just for being a loyal fan.
Create a Visual Planner
When you're planning your trip, don't forget the "social" part of social media, and ask for help. When you send out a query about pizza in Chicago or pedicures in New York, be prepared to get bombarded with opinions, advice and suggestions. That's when sites like Pinterest or Yelp can come in handy. Use review sites like Yelp to try to find a consensus about the spots you're considering, and determine whether to add certain places to your itinerary or not. Once you have some ideas, use Pinterest to keep them organized. When you're on the road, simply pull up your pin board to refresh your memory about that fabulous café you wanted to try.
Use Hashtags
Tagging your social media posts with hashtags (# before an important term) allows others to find your posts and respond with ideas and information. For example, tweeting "Looking for a great breakfast in #Dallas" will get the attention of anyone looking for posts mentioning the Texas city, and you'll probably get responses from anyone who spots your post and has something to add.
When you use social media to plan and improve your travel, keep a couple of points in mind. First, always acknowledge the help you receive, even if you don't opt to use the advice. Second, share your discoveries with others — after you get home. Sharing what was great and not-so-great about your trip will help others who are searching for information for their own trips. Just be careful about oversharing. Not only will you detract from your experience when you're constantly tweeting, sharing and chatting with others via your smartphone, letting the world know that you're away from home could leave it vulnerable to a break-in.
Otherwise, tweet, post, pin and snap away — it could lead to the vacation of a lifetime!