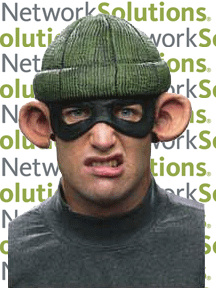 When you go to the Network Solutions website and enter your top secret idea for a website name in the "Find a Domain" box but don't register it on the spot, your domain will be held hostage for a period of four days. During this period, you (or anyone else) can purchase the domain at an inflated price, but only from NetSol. If it's a great name, chances are good that the domain will be taken by a "domain sniper" if you don't register it within the four day hostage period.
The Solution
Don't even go to NetSol's site. There are plenty of honest domain registrars around the web, including my personal favorite – www.joker.com.
This controversy and unethical business practice is ruffling quite a few feathers around the Internet and within ICANN. There is a great synopsis of the issue over at Wikipedia, which sums things up by saying:
"If you try to register a domain at Network Solutions, but decide not to register it, you won't be able to register it anywhere else, Network Solutions registers the domain in its company name with the words 'This Domain is available at NetworkSolutions.com'." Jay Westerdal has some screenshots to confirm these findings, which he posted in his blog.
The Options
You may be wondering where to turn for a domain name registration safe harbor, now that the original provider can't be trusted. Here's a short list of domain name registration tools and resources:
Psychic Whois (no more available) – find out which domains are available in real-time
Ajax Whois – similar to Psychic Whois, but not quite as psychic
Whois Source – simple and effective place to find information on a domain's owner
Joker – a great place to register and manage domains where you won't be up sold (like they do at GoDaddy)