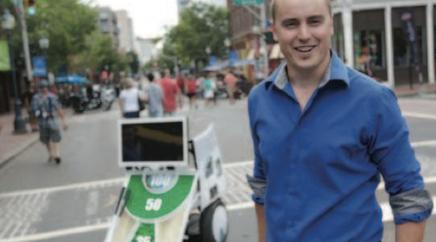 Imagine a furniture store staging a complete living room set on Main Street, Moncton, to advertise a sale. Or how about an insurance firm that projects its corporate logo on the face of a nine story o
Business aims to "bring crazy things to life"
Imagine a furniture store staging a complete living room set on Main Street, Moncton, to advertise a sale. Or how about an insurance firm that projects its corporate logo on the face of a nine story office building to attract consumer attention.
Now meet Carl Beaulieu, the resourceful entrepreneur behind these unique promotions. "My passion is to bring crazy things to life. That's what drives me," he says.
He's the 27-year-old owner of Vision Segway, a firm that designs and executes innovative marketing strategies for maximum visibility and impact. How?
By drawing on Beaulieu's mechanical engineering and marketing background, tapping into the creative talents of local professionals, capitalizing on modern technologies and taking full advantage of online media. As its name suggests, the agency has three Segways (self-balancing personal transportation devices) that are transformed into miniature rolling billboards with advertising panels and interactive display screens. These commercials on wheels are used to promote businesses at high pedestrian traffic events like community festivals, music concerts and golf tournaments.
Vision Segway also custom designs giant advertising balloons, fixed and video projections on large fl at screen or building surface, plus tailor made contest application software for iPads and games like a putting arcade to mount on a Segway.
This novel approach to "brand building" goes by various names, ranging from fun marketing, guerilla marketing or stunt marketing. The challenge for Beaulieu has been to explain the concept to potential customers. "Most don't know what a Segway is." To gain more exposure, he's stepped up his own marketing efforts – revamping his website and producing videos to enhance his online presence – and participated in networking events like the Greater Moncton Chamber of Commerce's Business After 5 meetings. A graduate of the University of Moncton's mechanical engineering degree program, Beaulieu comes from a long line of entrepreneurs who draw on their century of combined experience to solve problems. He also belongs to a support network of sons and daughters of CEOs that provide him with valuable advice. Beaulieu counsels other businesspeople to talk to them anytime an issue arises.
He became the fourth generation family member to join AGB (Atelier Gerard Beaulieu), a 100-year-old metal fabrication firm, based in Saint-Quentin, after completing his studies at U de M. He worked for three years as AGB's new product developer – a role that introduced him to sales pitches and promotion. "I fell in love with the marketing side of the business." In 2009, he started Vision Segway with a friend and then bought his partner's shares.
He admits that "it's been a struggle" to keep the business going and growing. Yet, he is optimistic about the future. So much so that he has set a goal of $1 million by year five of his business. If attitude equals altitude, then Beaulieu should reach his target within that time frame.