Digi-Capital has released its Mobile Internet Report for the first quarter of 2015, and has forecasted a massive rise in mobile Internet related revenue. According to its figures, revenue reached $300b last year, but it's estimated the figure in 2018 could be $850b. A Digi-Capital chart shows mcommerce is already the number one revenue stream, but will see gains after enterprise mobility revenue decreases over the next few years.
Mcommerce is the largest slice of the mobile Internet pie, potentially worth $850b in 2018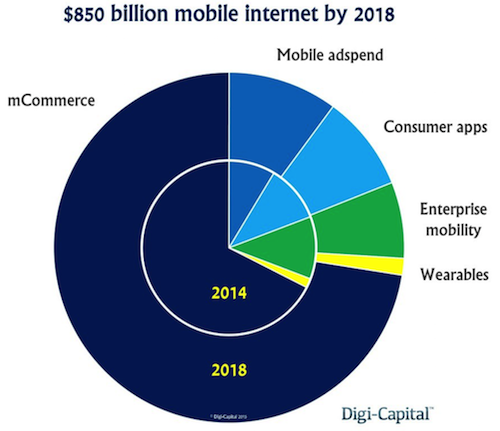 The same chart also shows mobile in-app revenue will take second place, and wearables will continue to see growth, albeit on a smaller scale. Over the same period, Digi-Capital's figures place Asia at the top of the list, having already passed America for the highest mcommerce spend in 2014. It's estimated that $300b will be spent using mobile devices in Asia by 2018, half of the $600b estimated total, despite the higher average spend per person in North America.
Asia may be responsible for half the mcommerce spend by 2018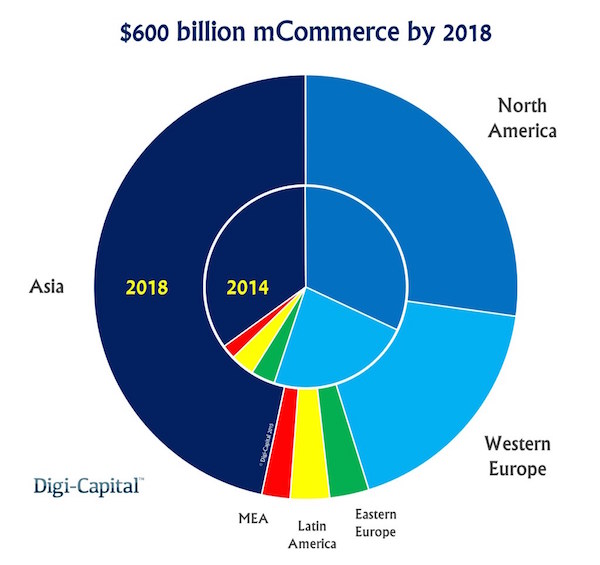 Shifting its attention to mobile advertising, the report says the U.S. will continue to dominate mobile advertising spend. Digi-Capital predicts $85b will be spent in 2018, and that games will be the most popular apps.
Games will remain the most profitable mobile apps between now and 2018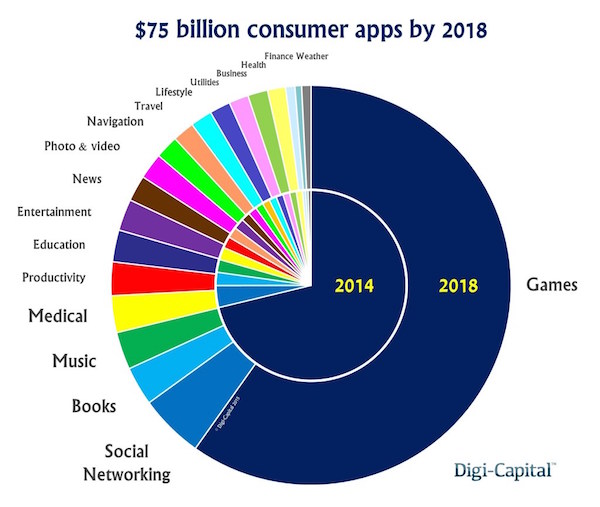 Already responsible for three quarters of the $30b global app revenue in 2014, spend could reach $75b by 2018, according to its data.